We have been providing prompt and professional commercial refrigeration services to the medical community and technical industries for over 65 years.
Our Mission
Shon's Scientific is dedicated to providing quality services focused on the reliability of your equipment to ensure that the contents produced by many years of work are safe.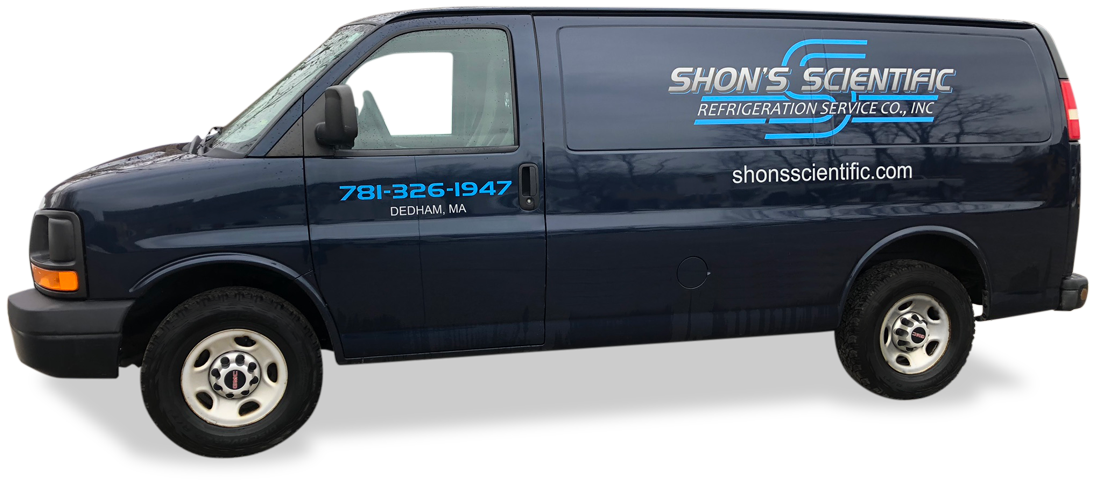 EMERGENCY SERVICE
24 Hours a day and 7 days a week, Shons will dispatch a trained Technician in one of our 11 service vehicles. For emergencies, call: 781-326-1947
MAINTENANCE CONTRACTS
Preventative or Full Service. Both include two visits per contract year checking the units operation, performing general maintenance & providing service reports for each unit.
LOANER & RENTAL FREEZERS
Shon's has 50 units ranging from +4c to -150c in a wide variety of storage capacities and voltages to best fit your needs.
OFFSITE REPAIRS
Our 5700sq foot repair facility is stocked with most OEM parts so that we can expedite repairs and limit the downtime of your equipment.
WARRANTY SERVICES
Shon's is an authorized service provider to many of the manufacturers you will see in and around your lab.
ACCESSORY SALES & INSTALLATIONS
We provide and install alarm, temperature monitoring, dial out and back-up systems.
NEW & USED SALES
Shon's has a large inventory of fully warrantied used equipment. We also sell, deliver and install freezers and ice machines.
DISPOSAL
Removal and proper disposal of any unwanted refrigeration equipment to our facility following EPA guidelines.
About Shon's Scientific
Founded in 1946, Shon's Scientific has been providing service to the commercial refrigeration industry for over 65 years. In 1960 we began servicing the first ultra low temperature freezers. We specialize in cryogenic refrigeration, and provide service to hospitals, universities, research, pharmaceutical, industrial and manufacturing companies.